All of our leagues are for mature people who like to play in structured leagues.
All players are placed in leagues based on game play ability
If your an elite player or a beginner we have a league for you.
A veteran community member explains to you how everything works.
NHOL Official Rule Book
Mission Statement
Here at the NHOL our goal is to promote both casual and competitive gameplay regardless of skill level. We are growing at a rapid pace and expect all players to uphold the values here at the NHOL. Most importantly this league is about not taking yourself too seriously and just having fun.
Section 1 Code Of Conduct
1.1- Players in the league are expected to treat each other with respect, fair play and sportsmanship regardless of skill level both during the game and in chats.
Disrespectful behavior will not be tolerated.
1.2- The NHOL will have a zero-policy rule for any behavior that includes:
Abuse, racism, sexual orientation, hate, discrimination, or ethnicity.
Abuse will be defined as threatening harm to another player or players family.
1.3- There will be absolutely no drama in chats.
We are all mature adults and are expected to act like one.
1.4- If there is an issue in game or in chat please send a direct message to one of the admins.
Do not air it out in chats.
1.5- Players who use multiple accounts, provide false information, or cheat during games will be dealt with according to the league disciplinary actions.
1.6- Absolutely zero talk of politics or religion in the main chat.
Section 2 Team Owners and Captains
2.1- All owners will be approved by league admins.
You may express interest if a team is in need of an owner but the NHOL reserves the right to decline until we feel said person is ready for the role.
2.2- Owners are responsible for their managers and players to know the league rules and that they are abiding by them.
2.3- Owners must report to admins of anyone on their roster who quit, cheated, is toxic, not communicating, or inactive.
2.4- Owners and captains represent the NHOL and are expected to uphold all of the standards within the league.
2.5- Owners are responsible for placing any player on the trade block that request a trade.
2.6- If an owner quits mid-season the captain will have first chance at ownership after the season, if admins feel they are ready, otherwise we will assign a manager to that team.
Section 3 Players
3.1- Players are required to let their manager know of any PSN changes.
Managers must report to admins 12 hours before game time so we are aware of the change.
If a player fails to do so they cannot play that night.
3.2- Players are responsible to reach out to either their manager or captain if availability changes or they need to quit.
3.3- Players must be part of the Discord app and be in the main chat in order to play.
3.4- Players are responsible for giving their availability to their manager via Discord team chat or direct messages.
If they do not and are not placed on a line for that night they can only blame themselves
3.5- All players are required to have matching PSN and Discord NHOL approved nicknames.
3.6- All players have the right to ask for a trade but can only contact their current manager to do so.
Players are not allowed to make it public that they are requesting a trade.
3.7- Players cannot ask to go to a certain team but only express that they wish to be traded
3.8- Players refusing to play for their current team or team they were traded to will result in a 1 season ban.
If this happens a second time they will be permanently banned.
Section 4 Trades
4.1- Any trade proposal must be submitted to an admin for approval.
If a trade is declined the admins will ask you to rework the deal and submit again.
4.2- Teams are allowed to trade up to 5 times per season, and 1 additional additional 3 way trade.
Maximum 1 3 way trade per season.
4.3- If draft picks are involved in the trade you can only trade the following seasons picks.
Trading picks past the following season will be declined immediately.
4.4- The trade deadline will be announced at the beginning of the regular season which will be generally 2 weeks before the end of the regular season.
4.5- No trading draft picks during the final season before the new games comes out.
Section 5 Free Agents
5.1- To be placed on a team as a free agent you must enter the league before the trade deadline.
If a player enters the league after the trade deadline they will have to wait to be drafted after the season.
5.2- All free agents will be auto assigned to a team.
Players cannot enter the league and pick which team to be on.
5.3- Any player auto assigned to a team must play at least 3 games before they can be traded.
Refer to code of conduct for players who tank their 3 games to be traded.
If the admins and commissioners determine the player did not try during those games so they can be traded this will fall under false information
(section 1.5) and the player will be suspended for 1 season.
Section 6 Protected Player / Captains Rights
6. 1- At the end of each season owners have the right to protect 3 players plus their captain from the draft for the following season.
6.2- A player cannot decline being protected.
If they wish not to play for the team, they have the right to ask for a trade.
6.3- Captains have the right to step down from their role after the season.
If they do step down, they are ineligible to be a captain for 1 season and must enter the draft.
6.4- Owners have three options after the season if their captain steps down
Option 1 They enter the draft with no captain and their 3 protected players
Option 2 A team picks a captain out of the protected players
(the player must accept the captain role)
in exchange for picking their captain from the protected players list they will lose their highest draft pick.
Option 3 A manager picks their captain from the unprotected list and keeps all of their picks.
Section 7 Protected Player/Manager Rights
7.1- If a Protected Player leaves a team to become a manager, the player's previous team will get 1 selection in the expansion draft of unprotected players.
7.2- If the expansion draft has taken place , the player's previous team will get 1 supplemental draft pick at the end of round 1 of the regular draft.
Section 8 Roster Limits and Requirements
8.1- The max roster size per team will be 12 players.
8.2- Players must play in a minimum of 10 games throughout the season to be eligible for playoffs.
8.3- Players cannot play more than 55% of the regular season.
If someone ends the regular season with over 55% of regular season played, they cannot play in the playoffs.


This rule DOES NOT affect goalies as they can play in 100% of the games in net.
Section 9 Playoffs
9.1- Playoff teams will be seeded by how they finish in the conference into a bracket.
There is no reseeding of the teams and will remain in bracket form.
9.2- Players can play a maximum 2 games in a row.
This includes going from one series to the next.
This rule DOES NOT apply to goalies. They can play every game.
If a player plays 3 games in a a row as a skater the game will be a forfeit and the player will be suspended 2 playoff games.
9.3- Away teams must share who they are playing before each game.
If a team does not play the guys, they said were going to the game must be restarted with the proper roster
and a penalty shot will be reward to the home team.
Section 10 Servers
10.1- for both the regular season and playoffs the server that must be used is Any.
Section 11 Lag Outs / Black Screens/ Game Forfeits
11.1- If someone lags out finish out the period.
At the end of period take pictures and restart the game with the SAME rosters.
11.2- When resuming after a lag out the team who lagged must win the face off and flip the puck over the glass immediately for a penalty shot.
11.3- If a team lags out twice in one game they must forfeit.
11.4- An unexpected error before the puck is dropped does not count as a lag out. Simply restart the game with the same line ups.
11.5- After a lag out simply play remaining periods while keeping track of the previous score.
Example: A player lags out in the 2nd period.
Finish the period with the AI. Start a new game, take the penalty shot, then the rest of 1st period will be third period.
Teams will miss out on the slow minute but that 1s the way it goes. Remember this is for fun we are not getting paid.
If tied after the 1st period, the remaining periods will be used as OT
11.6- In an extreme circumstance if a player loses power finish the period as usual but you can use another player equal
to or less than the skill level of the other individual.
If there is a disagreement on the skill level it will come down an admin vote.
Although this is unlikely to happen, we still need a rule in place.
11.7- If a black screen occurs DO NOT go in and shot on the goalie.
You must wait until play resumes, let the team shooting win the faceoff, pass to the player shooting,
then the opponent must trip him for another penalty shot.
1- If a player goes in and shoots during a black screen, they forfeit the second attempt.
2- If a player shoots and scores during a black screen that goal will not count and play resumes as normal without a second attempt.
11.8- PS5 black screen PS5 users do not receive black screens so it will be up to the defending goalie if using a PS4 to take a screenshot, back out of the game, and show proof to the other team that a black screen occurred with a time stamped photo.
1-When the game resumes use the same process of tripping the original shooter for a penalty shot.
2- Only play what was left in the previous game.
Example, if this happened with 9 minutes left in the 2nd period you would play the 1st period and then to the 9 minute mark of the 2nd period.
11.9- If a team forfeits a game during the regular the team's captain and manager will be suspended for the 1st 2 games of the playoffs.
Section 12 In Game Actions and Penalties
12.1- A goalie cannot be pulled unless your team is losing and there is less than 5 minutes remains in the game.
12.2- A goalie cannot come out of their crease to impede the an opposing player who does not have the puck by diving, sliding, running into, trapping in the net or in any other way possible.
If a goalie is making a play on the puck it is a 100% legal play
12.3- Ragging the puck will not be tolerated. You are allowed to play the puck backwards to set up, but you must enter the
offensive zone as quick as possible.
12.4- Quitting during the game will have severe consequences (see chart below).
12.5- Teams have a 10-minute grace period from game time set to start playing.
Exceptions can made but must be approved by an admin.
Section 13- Miscellaneous League Information
13.1- Mercy rule will be set at 10 goals. If a team is winning by 10 they are not to shoot on the goalie but to only dump the puck into the offensive zone.
13.2- Game times:
Wednesday 10pm Eastern 2 games
Friday 10pm Eastern 4 games
Sunday 9pm Eastern 2 games
13.3- Draft order to prevent tanking in the NHOL we will have a lottery system for the bottom 4 teams in the league standings plus the playoffs to determine picks 1-4.
The rest of the order will be dictated by how you do during the regular season and playoffs
13.4- Bi-weekly managers meetings will be held on Sundays approximately 1 hour before game time.
If a manager cannot attend, then the captain must be on the call.
Managers meetings will be held via zoom.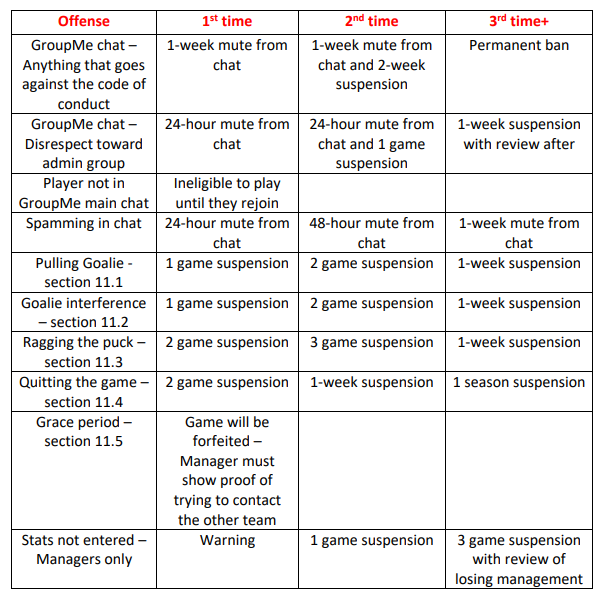 IMPORTANT LINKS:
REL WEBSITE
REL INFORMATION HOW IT WORKS


This site is not recognized, sponsored, endorsed or affiliated with the National Football League (NFL), National Football League Players Association (NFLPA),
National Hockey League (NHL), National Hockey League Players Association (NHLPA), Major League Baseball (MLB), Major League Baseball Players Association (MLBPA),
FIFA, National Basketball Association (NBA),National Basketball Players Association (NBAPA) Sony Corporation, Playstation or EA Sports.
All NFL, NHL, NBA, MLB, and FIFA team logos are registered trademarks of the NFL, NHL, NBA, MLB, FIFA and their respective clubs.
Copyright Leaguesonline.net 2015-2016-2017-2018-2019-2020-2021
All rights reserved.